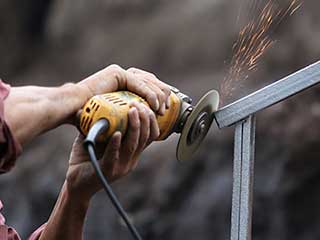 Not only do we provide garage door services you can rely on, we also provide extensive services for automatic gates, located at both commercial and residential premises.
Whether you're in need of a new installation, repair job or troubleshooting, our local technicians in Oak Park are here to help. Read on to learn more about our services.
Installation Of Intercom systems
If you have a gate installed at home or at your business establishment, you likely consider an intercom system a necessity for both convenience and added security reasons. We can look after your intercom installation needs and we also offer camera installation options if you like the idea of additional security measures. You can rest assured that we only recommend trusted brands for the sake of quality and durability.
Sliding Gate Chain Replacement
There are many manufacturers that produce beautifully designed sliding gates. However, beauty doesn't protect the various parts from occasional malfunction, especially the chains, which play a major role in the mechanism itself. Our team of experts can replace worn out chains to ensure your gate functions smoothly all the time.
Iron Gate Repair
Many materials are traditionally used to build gates, and iron is one of them. Our contractors are trained to handle this type of material and models of all types - we provide our assurance that your gate will be fixed right on schedule so that it functions like a brand new system once again.
Maintenance Services For Your Gate
We highly recommend regular maintenance appointments to all our clients so that their gates live for as long as possible. We can lubricate the moving parts and tighten any loose components, helping to prevent a breakdown in the future. Prevention is always best!
Our local team at Garage Door Repair Oak Park want to ensure you receive the service you deserve when your automatic gate needs attention. Just give us a call today to make an appointment, we'll be glad to help you out.
But wait, there's more! We also offer:

Hinge Welding Repair

Program Doorking Intercom

Commercial Gate Service

Gate Exit Sensor Installation