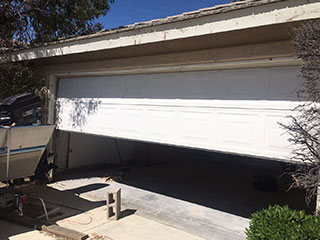 Too many different garage door problems can be extremely dangerous, which is why – unless you're a trained technician with over a decade of experience – you should leave things like broken spring replacement and bent track repair to our experts. We've got the skills and the knowledge to quickly fix any type of problem you may be facing.
Finding The Cause
Some issues may not be obvious right away, like a door that won't open or one that won't close. At which point, our team will proceed to troubleshoot the problem. We'll examine various parts of your garage door and the opener, until we've located the culprits. Then we'll carry out the necessary repairs, and even replace different parts of the system if the current ones aren't capable of functioning properly anymore.
The Dangers Of Spring Replacement
The springs are under a lot of stress, and when they break, the tension stored in their coils gets released, which can cause them to whip around violently. As crucial as these components are, they are probably the most dangerous parts of your entire system. If you or anyone else happens to be standing nearby when they break, things can end very badly. Rather than risk it, let our repair specialists take over. We'll check the cables as well, to make sure they haven't become frayed, and to ensure that your door can keep opening and closing smoothly without any issues.
Door Got Off Track
This type of problem is also quite common, unfortunately, and it is usually the result of either roller or track related problems. Our experts will make sure any dents we find are thoroughly fixed, and any worn or broken rollers are replaced on the spot.
Our Team is Here To Help
The risks simply aren't worth it when it comes to attempting DIY repairs on your garage door. Why put yourself in danger when our professional technicians are ready to take care of these issues for you? Give our experts at Garage Door Repair Oak Park a call today and let us handle whatever problem you're dealing with.
We also offer:

Overhead Door Installation

New Opener Remote Controls

Garage Door Transmitter Repair

Garage Door Weather Stripping