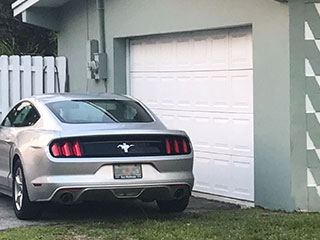 Even the most reliable garage door can break down every once in a while. The high stress that the different mechanisms are subjected to makes it impossible for nothing to ever go wrong. Whether it's a new door or an old model, regular maintenance can and will reduce the potential for malfunction, and improve the efficiency and functionality of the system as a whole.
First – Safety Tests
In order to ensure that your automatic door is still safe for you and your family members to use, we'll perform a few tests. These tests will focus on the opener's photoelectric eye sensors and its auto-reverse feature. We'll make sure that the alignment of the sensors hasn't changed and that the door reverses properly when something is blocking its descent. As beneficial as an automatic door can be, it's still only a machine, and these safety features are put in place for a reason.
Tension and Balance Adjustment
The older your garage door springs get, the less functional they'll become. Now, that doesn't mean that they need to be replaced every year, but checking their tension and adjusting it as needed will help them last longer and reduce some of the strain they have to suffer through. This will also help keep the door balanced, and make sure that it doesn't sag. If it does, this service will fix it.
A Little Touch of Grease
Lubrication is a major part of garage door maintenance, as the moving metal parts are always experiencing friction-based wear and tear, and reducing it as much as possible is very helpful. We'll make sure the torsion springs, the rollers and the hinges all receive this treatment. This will reduce the squeakiness of the door and increase its smooth performance.
Schedule an Appointment Today
Want to keep using your door for a long time to come? Then either use our online system to book an appointment or give our team at Garage Door Repair Oak Park a call today.
Looking for more? We also offer:

Door Level Alignment

Bottom Seal Rubber

Install New Panels

Noisy Doors Silenced